Krunker.io Crossbow Guide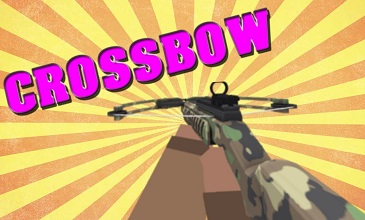 Krunker.io Crossbow weapon is an item created for players who love archer weapons in the game. You can shoot enemies from afar with this weapon. If you can hit the target exactly, you can kill opponent players in one hit. The biggest disadvantage of this weapon is that it reloads arrows after every arrow shot.
Should You Choose Krunker.io Crossbow?
As a weapon, the crossbow might not be the best one out there, but it surely is a great choice. It is because you will only get a few arrows to shoot in the Krunker.io Crossbow and still it has some of its drawbacks which can lead to many people avoid using this weapon. Well, the crossbow is one of the primary weapons which is used by bowmen. It was first launched in the game version 1.3.1. The crossbow has the smallest damage capacity in the game and you can only find a single shot before you have to reload it. So, it might not be great for close-range combat as you will only get one shot to bring down the target.
Krunker.io Crossbow Details
Every person has seen crossbow and movies and many action series. You might already know that it is a counterpart of a real-life crossbow. It's different from any other weapon in the game. It is not based upon any of its processes protesters in different games. So you can consider choosing it as a weapon by selecting the bowman. The Crossbow details are given below.
Special Effect: Projectile-based
Damage: 200
Damage Dropoff: 0
Range Distance: 700
Ammo Count: 1
Reload Time: 1200 ms
Fire Rate: 150 ms
Spread Rate: 120
Zoom Rate: 1.40
Swap Time: 200 ms
Aim Speed: 120 ms
Speed Multiplier: 1
Headshot Multiplier: 1.5
Speed Of Krunkerio Crossbow
In the game, you will get a single fire Krunker.io Crossbow which has a firing speed of 50 projectiles per minute. Its high base damage and infinite range allow the weapon to easily kill any class player over a single shot. One of the reasons why some people might not be able to get the angle of using this weapon is because of its slow projectile speed. It can become quite difficult for you to master the weapon. You have to protect your opponent's arrange to shoot them down. To use this weapon in the game, you have to really improve your ability to use archer weapons. A lot of different types of Krunker.io weapons are available for all players.
Understanding The Projectiles Before Firing
Earlier to ensure that the player can easily analyze the distance and the time of the projectile you have to shoot the weapon before your opponents are moving. In the new version, the players have to also consider gravity. It means that the travel speed has significantly increased. the crossbow becomes quite an amazing choice of weapon as you can kill the enemies with a single shot which is equivalent to of sniper rifle.
Many players prefer to use this old-style weapon which has its benefits. You can easily enjoy using the Krunker.io Crossbow and ensure that you get certain benefits. It deals damage of 200 and the drop-off damage is zero. It has a range of 700 units and the reload takes about 1200 milliseconds. You can increase your development speed in the game by purchasing Krunker.io store items.