Krunker.io Controls List and Tactics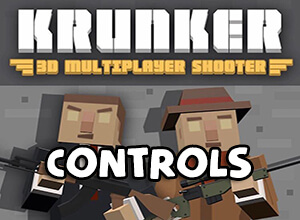 Krunker.io is a cartoon first person shooter game that is quite easy to play. All players should know Krunker.io controls list to kill enemies readily. The controls are simple for all players and anyone with a keyboard can easily play.
It may sound a bit surprising that web-based shooting games are very much helpful in letting players enjoy to a high extent. They help one to come out of the daily monotony in a slow and steady manner. Such games have been designed in such a manner that none of the people in society gets affected.
Krunker.io Controls List
In the game, you must fight enemies and be the winner of the game. Many players are acquainted with the Krunker.io game and are just starting to play the game, but they don't have detailed information about the game. If you have just started the game and you do not have information about how to play the game, you should definitely learn the Krunker.io commands and controls list. The Krunker.io controls list is simple and feasible. It is the controls that players of all ages can learn in a short time.
Forward: W
Backward: S
Right: D
Left: A
Aim: C
Reload: R
Spray: F
Crouch: SHIFT
Jump: SPACE
Next Weapon: Q
Previous Weapon: E
Chat: Enter
Voice: V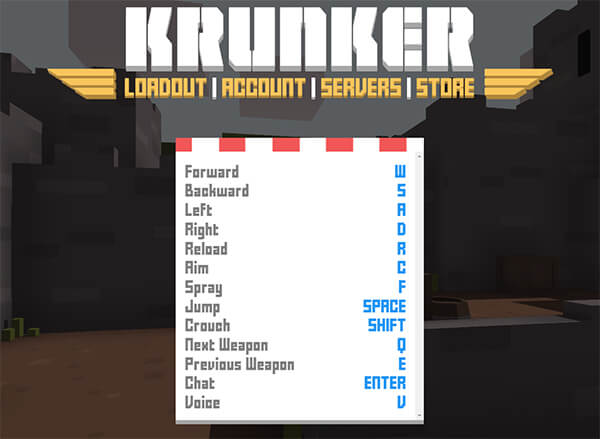 Each and every step in our lives teaches us something. Once you join online shooting games, you will enjoy further development in thinking skills. Shooting requires a high amount of concentration. Firing unnecessarily here and there is not at all a qualification of a skilled shooter. The player needs to make proper application of strategic and calculated thinking.
Knowing Krunker.io controls very well allows you to be first in the game to a large extent.
If the target gets missed, your attempt must be to shoot it in the second chance. You need to devote time to make your pathway to shoot the target. The application of exclusively designed tactics will let the player emerge as a successful player. Once you cross the initial level, it will be easy to switch on to the next higher level.
Become a Master of Games
One day you will become the master of all trades. People ranging from teenagers to adults, all are on their way to give a trial to online shooting games. You will infer a good improvement in hand-to-eye coordination that too in a considerable manner. Lots and lots of experts are still arguing in the favor of same. Why despise these game rounds? Let us give you a trial so that you may emerge victoriously.
One must not let him get blown away by gossips and rumors. It will be a great idea to give a trial on your own. Reaping the exclusive benefits of Krunker.io controls will help you to become an efficient shooter without any risk. High advancement in technology has let people achieve their targets at the best.