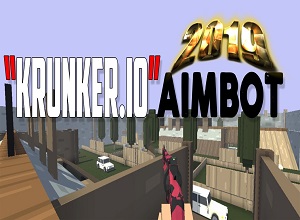 Krunker.io aimbot 2019 is a version of the Krunker.io hack or script that enables the player to easily kill other rivals.
Krunker.io aimbot is designed purposefully to make Krunker.io game more interesting to play. It helps the player to slay his or her enemies easily and faster. It is an easy and simple way to play Krunker.io game since the major aim to target and slay the enemies.
Detailed Information of Krunker.io Aimbot 2019
One of the main benefits of Krunker.io aimbot 2019 is that it provides you with detailed information about your enemies making it easier for you to target and kill them. Besides auto aiming features, Krunker.io aimbot also has wall hack, ESP features.
With Krunker.io aimbot, you will clearly see the location of other players with wall hack. The red laser enables you to catch your rivals and see them in green lines. This means that you cannot be ambushed or be caught off-guard. After seeing the enemies in the green light, you will decide whether to shoot or dodge them. If you decide you want to kill the enemies, you should simply press the right mouse. That way, the auto aim will automatically lock them to kill.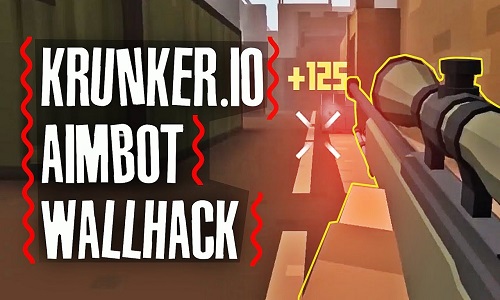 Besides, you can also observe the name of the opponent. You will also be able to see the enemies' names and the distance. This can help you know if you should turn to them immediately before they get to you. If they are still too far, you can first attend to other more urgent matters. You will also be able to observe your opponents' weapon and ammo number. You will be able to do this with ESP.
Krunker.io Aimbot 2019
Player ESP (Wall Hack)
Firebot
Auto Reload
Auto Aim
No Recoil
No Reload
Fast Healer
Player Tracers
Auto Respawn
Show FPS
BunnyHop
Aim Through Walls
Custom Aim Settings
Auto Weapon Swap
Fast Keys
1: Change Auto Aim Mode (to use auto aim, players should disable auto fire feature)
2: Auto Bhop
3: Auto Reload
4: No Recoil
5: Aim Delta
6: Burst Shock
7: Force Scope
8: No Death Delay
9: Super Gun
0: Spin Bot
Krunkerio Aimbot 2019 (need tampermonkey or others below)

You must have 
TAMPERMONKEY CHROME  / TAMPERMONKEY OPERA / GREASEMONKEY MOZILLA
VirusTotal Scan: Krunker.io Aimbot
Players need to delete other krunker.io aimbot extensions!

Updated: 1 May 2020
Krunkerio Aimbot Is Perfect
Krunker.io aimbot is great for everyone, both professional players and beginners. It is particularly very helpful to anyone who finds Krunker.io game difficult to play and cannot be able to play professionally.
If you have any difficulty in shooting your enemies then you can use the Krunker.io aimbot 2019. By using this hack, you will be able to play the game professionally. In the Krunker.io game, you can shoot at your enemies but the weapon can backfire. Krunker.io aimbot code has a no recoil feature that helps in preventing the backfire of your weapon. This allows you to slay your enemies flawlessly. You can also be able to target and kill your rivals who are hiding behind the walls. This is made possible by Krunker.io aimbot's aim through walls feature, which auto-targets the enemies behind the walls.