Krunker.io Maps & Editor Guide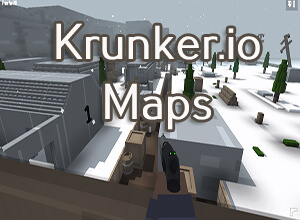 Krunker.io is a real-time io battle game that is played with many people. There are many different types of maps you can play in this game. Krunker.io maps are divided into 2 types which are played on official servers and maps played in custom games.
Krunker.io Maps
There are 2 types of Krunker.io maps you can play on official servers; These are called Burg and Littletown. On Burg map, the players fight each other in a castle. The map consists of 4 parts.
The other official server map is Littletown. Players on this map fight in a small city. The map usually has apartment buildings and houses. Players can enter into buildings and fire from windows to enemies. Community maps are unlimited because Krunker.io game has given players the option of making their own maps. Each player can set up a room by selecting the desired map.
To create your Krunker.io map, you must click the custom maps button in the top left corner of the game's main screen. You can access map editor and map list from this menu. You can also upload new Krunker.io maps from this menu and list your own maps that you have already created. However, if you want to create your own map, you must be a Krunker.io account.
The Popular Custom Krunker.io Maps
AIM_Room –  by Andrii
High Towers – by Allir_WoW
NUKETOWN V1.0 – by BeefJerky
Fortnut complete – by Derrick
RedWood – by spinsky
Zombie_Bunker – by Andrii
Snipers Nest – by Sebastic
Krusty Krab – by Mr_Krabs
ZombieD-Day – by kevbot103
SantasWorkshop – by FrostyMilk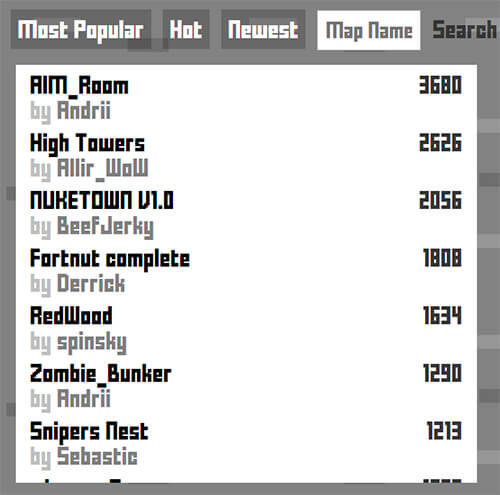 If you create custom games at Krunker.io, you can choose the game mode yourself. These game modes are:
Free for All
Team Deathmatch
Hardpoint
Parkour
Hide & Seek
Infected
Race
Boss Hunt
Competitive
How to Use Krunker.io Map Editor?
Many players wonder about how to make Krunker.io map. To use the Krunker.io map editor, you must click the custom maps button in the upper right corner of the main screen. Then, you can open the editor by clicking the map editor tab.
Once you open the editor, you will see map tools which are translate, rotate, scale, world, local, delete an object, import map, export map and help.
Map Config
Name
Mod URL
Ambient light
Sky color
Light color
Fog color
Fog distance
Create Object
Crate
Stack
Barrel
Vehicle
Ladder
Cube
Ramp
Plane objective
Particles
Billboard
Score zone
Death zone
Spawn point
Camera position
When you have completed your map, you can test your map by pressing the test map button. Then, you can correct any errors in the Krunker.io map