Krunker.io Weapons List & Guide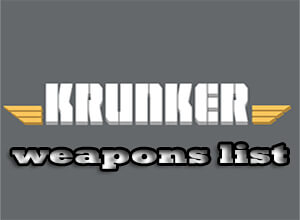 There are some people who aim to serve as professional shooters in Krunker.io game. Krunker.io weapons are divided into 4 groups which are automatic, single fire, AoE, and secondary. There are also unique weapons in the game which are classified as uncommon, rare, epic, legendary, and relic.
Krunker.io Weapons
The starting weapons that the player can get to the game are the basic weapons. These weapons are divided into classes depending on character types. Each class has its own weapon model. Although these weapons are basic weapons, they are powerful compared to many special Krunker.io weapons. Therefore, these weapons should not be underestimated by players.
If you play the game and collect enough KR points, so you can get new weapons. However, you should have Krunker.io account to collect KR points. To acquire new weapons, you must first get a Prize Wheel which you can get with KR scores. Prize Wheels are Starter Spin, Elite Spin, and Heroic Spin. Some spins are also published for a short time such as Attire Spin. Due to Christmas now you can get the Attire spin by 750 KR points.
Krunker.io Weapons List
Triggerman – AR Wired
Hunter – Kodac Reticle, Autumn Hunt
Run N Gun – Autumn SMG, Blushed SMG
Spray N Pray – Hazard LMG, Machinist LMG
Vince – Tiger Slug, Digital Slug
Detective – Wanderer python
Marksman – Tiger MMA, Barbed Auto, Hazard auto
Rocketeer – Mossy Rocket, Kodac RL, Faded RTL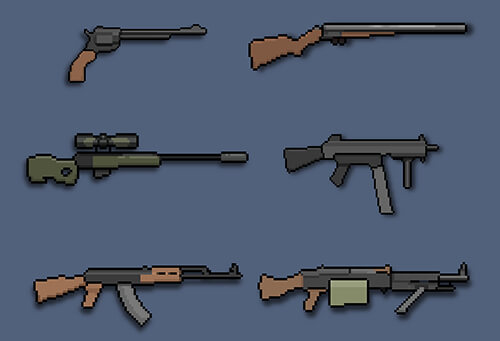 Automatic
Assault Rifle
Submachine Gun
Light Machine Gun
Single Fire
AoE
Secondary
The Krunker.io Akimbo Uzi is a very rapid-fire weapon that was added to the game later. Krunker.io Blaster is an indispensable weapon for many players.
How to Get Krunker.io Weapons?
Yes, the introduction of online games has made game enthusiasts remain in an entertained state. Once you start with your search, you will come across numerous options to select. Playing in a devoted manner will let you get an idea about Krunker.io weapons at the comfort of your home in a hassle free manner.
Starter Spin 50 KR
Elite Spin 100 KR
Heroic Spin 500 KR
Attire Spin 750 KR (Outfits only)
300 KR 0.99 USD
600 KR 1.79 USD
2600 KR 7.49 USD
7000 KR 15.99 USD
20000 KR 34.99 USD
Online shooting playing games have been regarded as some of the greatest sources of entertainment. Also, these rounds of games serve to be as superb stress relievers. Stress is a virus that hampers each and every moment of human life. Hence, it must be shooed away in a creative manner.
Release Your Anger through Online Firing Games
Online firing games will fulfill your desire of serving as a professional shooter. You need not go out of your home as these games can be easily accessed from the comfort of your home. Online shooting platforms will give you a golden opportunity to release your anger by targeting your enemies within few clicks.
Along with shooting, you will be enjoying numerous additional adventurous activities under a single head. These online games are becoming popular day by day due to the comfort and flexibility in the association. These games serve to be as best ways to judge one's ability to come across numerous challenging situations.