How To Join Krunker.io Clans 2023 Easily?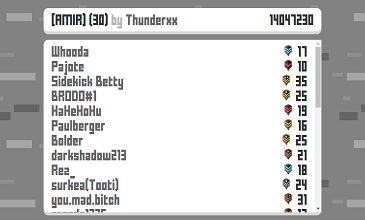 At Krunker.io, every player is provided the opportunity to create their own clan or enter any existing clan. There are no joining or establishment fees to be part of Krunker.io clans 2023. If you love the online multiplayer shooting game, then the Krunker.io game does not disappoint you. Since there are several players engaged in the game, collaboration is of prime importance.
In 2023, many features were added to the game, some of which indirectly affected the clans. Many players started the game and their clan numbers increased.
Krunker.io Clans 2023
Players in this game can share their similar gaming interests by creating groups to reflect their interests. Groups are created within Krunker. You can gain a clan tag if part of any clan that will be added next to your name. in this manner, every player playing the same game is likely to know which clan you belong to. Unity and togetherness are really at the forefront of the game.
Generally, competitive Krunker.io clans allow the joining of players. To be part of the clan, they need to demonstrate some skills. This way, the members of the clan make sure that the newcomers do not drag down the leaderboards. If any member fails to live up to the clan's expectations, the clan will only be dragged to the leaderboards.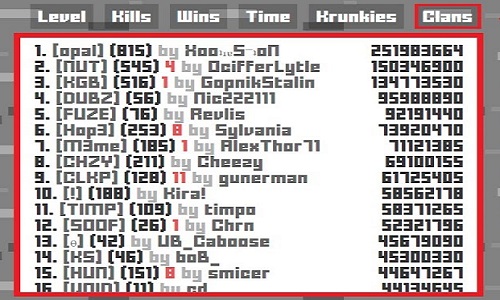 There are clans of Krunker.io officially recognized and approved by the Krunker.io game. Verified clans: "Lore", "nV", "Oxic", "Verb", "DEV", "FaZe", "Omen", "ロリ幼女", "VOID", "JBP", "PHIL", "TIMP", "g59″,"24/7", "GLXY", "MMOK" and "KPOP".
How to Join A Krunker.io Clan?
To join a clan, it is necessary for the new players to demonstrate specific skills. Without acquiring a specific level, it is not possible to join any of the Krunker.io clans 2023. The majority of the cases requires players to acquire level 10 or even much higher for joining purpose. Many good clans want to accept you after seeing your style of play. The clan official or founder has the authority to invite you to the clan, but a normal clan player has no authority to accept the request or send an invitation.
How To Create Your Own Clan?
If you are not eager to join an existing clan, then you are free to start your very own clan. To achieve this, you will need to register an account. In case, another player is interested to become your clan member, then active applications will pour in. this is more so as you visit the clan page present in your account. However, the existence of such notifications is not shown automatically by the Krunker.io game. It is for this reason you need to take out time to check after good matches.
You also need to find out if the player is really interested to be part of your clan or not. Other players making such applications to join your clan are likely to provide you with reminders through chat. But to be master of your Krunker.io clans 2023, you need to attain a certain level, which is 20 or even higher. Until then, you need to become a member of any other clan.